10 things you should know about insurance for you and your business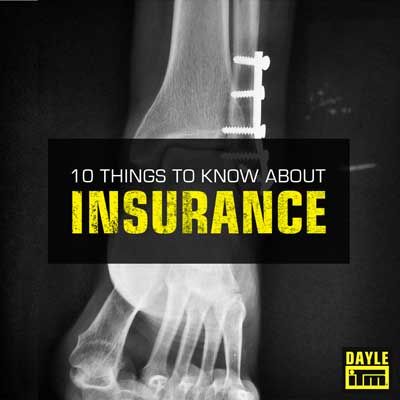 1: The potential cost of an accident at work
If a 20 year old worker has a fall and becomes a quadriplegic his/her employer could be up for $800,000 in reparations if found to be at fault. This is the top up in addition to what ACC pays (only 80%) to compensate them for their lost earning potential over the next 45 years. Not to mention the legal bills. Statutory liability insurance covers this, but do you have enough cover?
2: If your business goes into liquidation the directors could be held personally liable for creditors' losses and health & safety compensation payouts
Liquidators can claw back losses from directors if the company has been trading while insolvent. Directors & officers liability insurance protects directors from claims of mismanagement, including creditors' losses and health & safety compensation awards.
3: One in five small businesses has been the target of a cyber attack
The most common form of attack is ransomware, where hackers take over your computers and lock you out of your data, demanding payment to let you back in. Visit www.nzicyber.co.nz for a best practice self-assessment and tips to reduce your exposure to this growing threat.
4: Some private vehicle insurance policies may not cover damage if the vehicle is being used for work purposes at the time of the accident
For example, if a worker crashes while picking up supplies from ITM in his own car. Your commercial vehicle insurance can cover damage to your employees' vehicles under these circumstances.
5: Free windscreen cover with no excess could soon be a thing of the past
Windscreens for new vehicles are no longer just a $200 piece of glass. They now contain sensors, embedded cameras and other technology. This has added to the cost, often closer to the $2,000 mark now, making this freebie increasingly unaffordable for insurers.
6: Insurers are moving towards risk-based pricing for natural hazards
Traditionally insurers have pooled risk to even out the cost of insurance among customers. This means lower risk customers pay a bit more to subsidise those at higher risk. However, the cost of claims for natural disasters (including earthquakes, flooding and other climate change related events) is increasing, and this trend is set to continue without more investment in risk reduction measures.
Risk-based pricing means risk is calculated for a particular property or asset and the premium is set so that the insured party carries the full cost of that risk. This means the cost of insurance in areas of high risk may start to increase more sharply, and some risks may become unaffordable or even uninsurable.
7: According to the Insurance & Financial Services Ombudsman here are the top
The settlement options offered by the insurer (eg. repair vs replace or the amount of the settlement); delays in settling a claim; uninsured third parties (i.e. having to pay an excess); excesses; whether a particular event is actually covered by the policy; premium cost; having to prove loss/ownership; repair issues; gradual damage and disagreement over the agreed/market value of a vehicle. Having a good understanding of what your policy does (and doesn't) cover, how the claims process works and what information you'll be required to provide will help ensure your experience is a good one.
8: Gradual damage is not covered (real example)
Mark made a claim because his rental property had been contaminated by methamphetamine. The insurer declined the claim, saying there was no evidence that the damage was "sudden" as is required by the policy, and that it was more likely to have happened gradually over time. Mark argued the damage was sudden because there was no sign of it at the last inspection. The Insurance Ombudsman said the insurer was entitled to decline the claim. The same principle applies to water damage and rotten timber, with policies increasingly specifically excluding damage caused by both methamphetamine and external water penetration.
9: "I'm required to increase my public liability limit to $10m for a particular project. How long should I maintain this higher limit after the job is finished?"
We often get asked to increase the limit of a client's policy for the duration of a project, then drop it back down again. The trigger for a public liability policy is not when you did the work and not when you're notified of the claim but when the damage occurred. Because damage could happen even years after the work was actually done the higher limit should be maintained after the job has finished, potentially for at least 6 years afterwards, as this is the length of time during which a claim can be brought against you.
10: Contract works insurance ends on the earlier of practical completion; occupation of the works or the date on the policy
Too many builders, and owners, still assume they can rely on having cover under contract works insurance even after the work is finished. This is not the case, as the cover will end at practical completion (or occupation if that's earlier), so full house/material damage cover needs to be arranged from this point. Some contract works policies include some cover to bridge the gap between practical completion and when house insurance can be arranged, but you need to clearly understand the terms of this.
We hope these 10 tips and examples will improve your understanding and appreciation of insurance and the risk environment you operate within.