Big treat for Little Buddies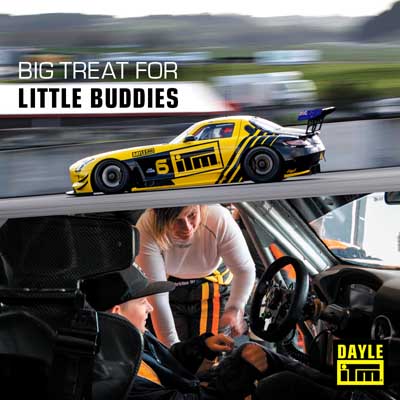 According to Dayle ITM director Deb Day, the rousing support at Hampton Downs was just what the team needed to spur them on to a debut victory.
"What an experience, it was amazing," says Deb. "They're our lucky charms and we'll be inviting them again to the next meet at Pukekohe."
Dayle ITM are the principal sponsors of a 600 hp 6.3 litre V8 Mercedes Benz SLS AMG GT3 in this year's North and South Island Endurance Series.
The Mike Racing Team features two familiar names in New Zealand motorsport – Brendon Leitch and Christina Orr-West. Both come from similar racing backgrounds having competed in the Castrol Toyota Racing Series and in the United States pursuing Indy Car Series dream.
Debut success
While the SLS GT3 is a new car to both drivers, they quickly found form at Hampton Downs, and although there were a "few dramas", the overall results were pretty encouraging, says Deb.
"Brendon and Christina did an amazing job – they put the car on pole position for the race. But we had a few dramas which included starting from the pit lane and a drive-through penalty, so they effectively had to fight from 20th on the grid twice.
"But despite all that, we finished a hard-charging fourth overall and first in class. All in all, it was a great start to the series, plus we had an awesome time with the Little Buddies.
"They got garage tours with our drivers, as well as race control tours and a chance for some of them to get up on the podium.
"We'll be doing our absolute best to make sure we have the Buddies support at all our race meets."
2018 ENEOS North Island
Endurance Series
Round 1, 18-19 May:
North Waikato – Hampton Downs
Round 2, 15-16 June:
South Auckland – Pukekohe Park
Round 3, 20-21 July:
Feilding – Manfeild Circuit Chris Amon
2018 Carter's Tyres South Island
Endurance Series
Round 1, 14-15 September:
Invercargill – Teretonga Park
Round 2, 28-29 September:
Christchurch – Mike Pero Motorsport Park
Round 3, 13 October:
Timaru International Motor Raceway
UPDATE after Round 3:
Christina and Brendon have finished 1st in class and 2nd overall for the series!