Building for the cup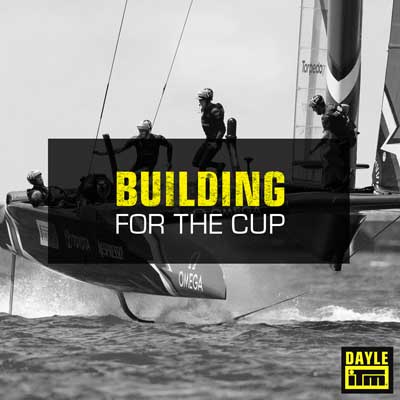 Given the success of the partnership, it's no surprise that ITM is once again on board as a key supporter for the cup defence, and is quietly confident of a similar outcome.
"ITM started as a business from just a small group who believed in the potential of a collective effort; this really reflects our own values, and we're thrilled to have their support as we embark on our next challenge," says Emirates Team New Zealand CEO Grant Dalton.
The ITM relationship with Emirates Team New Zealand dates back to the last cup when Southern Lakes ITM supplied building materials to Bermuda in 2017.
Down to earth
"It's funny, you hear these stories that it's an elitist sport, but nothing could be further from the truth. Yes the America's Cup is the top echelon of yachting and yes there are plenty of super rich individuals involved with different teams. However the Emirates Team New Zealand crew we worked with were the most down to earth, most welcoming people you could ever come across," says Paul from ITM Southern Lakes who was in Bermuda at the time.
"Not too different from us, they're fighting against very well resourced individuals or corporations so no stone can be left unturned in the search for success. We share such a great affinity. If you have total belief in what you are wanting to achieve – you will ultimately succeed. ITM is like the Emirates Team New Zealand of building supplies."
Tight timeline
In the build-up for the cup defence, ITM will provide materials for the Emirates Team New Zealand base, the Viaduct Events Centre (VEC) in the heart of the America's Cup Village, and also for the team's North Shore site where their boats will be built.
The VEC is a premium venue in a stunning location on Auckland's vibrant waterfront. It has 6000m2 of space spanning three levels and has been designed to a five star environmental standard. It makes the most of its impressive waterfront location with glass walls, balconies and easy access to the wharf.
Emirates Team New Zealand recently took control of the VEC. This will be their base as they prepare for the America's Cup Race and according to Dalton, "there is a huge amount to organise and build in a very tight timeline.
"We are passionate about what we do for New Zealand and with the support of ITM stores up and down the country, we're looking forward to sharing our journey with more Kiwis through this partnership."
Latest cup news
The America's Cup match will take place from March 6, 2021.
Best of 13 series between Emirates Team New Zealand and the winner of the Prada Cup challenger series.
Courses will be set across the wider Hauraki Gulf including North Shore beaches, North Head, the inner Waitemata harbour, the city's eastern suburbs and Tamaki Strait between Waiheke Island and Maraetai.
Three confirmed challengers: Luna Rossa, American Magic and INEOS Team UK.