Cash is king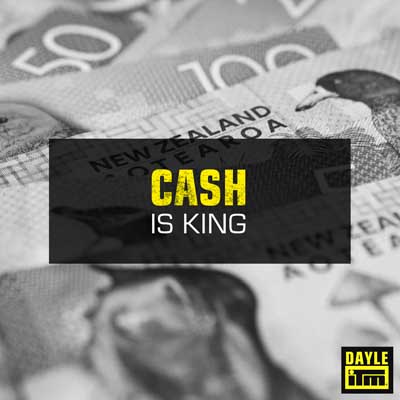 The management of cash can be the difference between success and failure even in a buoyant economy. Those businesses that keep tight control on cash are far more likely to prosper in both good and bad times.
As a rule the basic flow of cash is:

Creditors
Controlling costs – ensuring there is no slippage of cash here with unnecessary expenditure.

Review contracts – regularly review supply agreements for pricing and terms.

Managing credit terms – seeking credit terms that assist with cashflow while satisfying creditors expectations.

Discounts – if discounts are offered ensuring that terms are met.

Paying early might make you look good but won't help your bank balance.
Stock Management
Only carrying stock that is needed.

Is there an opportunity to order as required rather than carrying items in stock?

Don't be fooled by volume discounts as the real cost of carrying excess items could outweigh the discount received.

Selling old stock at a discount may be better than carrying it until it becomes obsolete.

Invest in a stock management system – often the savings in ensuring all stock is billed outweighs the investment.

Don't forget the volume of stock that is often in business vehicles. It will often add up to a considerable dollar value.
Debtor Management
Invoice regularly – don't wait until the end of the month.

Set payment terms and be clear about what they are – set your payment expectation up front.

Be firm with debtors - non-payment is not satisfactory.

Chase outstanding debtors early – make it someone's role to do this as soon as they are overdue, have a plan for what happens when a debtor doesn't pay i.e. at what point do you stop working for them or supplying them.

Invest in systems to ensure you have accurate up to date debtor information.

Ensure your deposit details and payment options are on all invoices and statements to enable ease of payment by customers.
Banking
Ensure cashflow isn't being absorbed in purchasing long term assets. If purchasing large long term assets ensure you have worked through the impact on your operating cash cycle before spending the funds.

Overdraft – if you spend the whole year in overdraft it could be worth reviewing with your bank to see if an amount could be transferred to term debt which is generally a lower interest rate and can be set to be paid back over a period of time.

Review interest rate and terms regularly with your bank.

Build a great relationship with your banker and keep them informed of how you are tracking and what you have coming up.
by Michelle Turfrey
Business Advisor