From high heels to work boots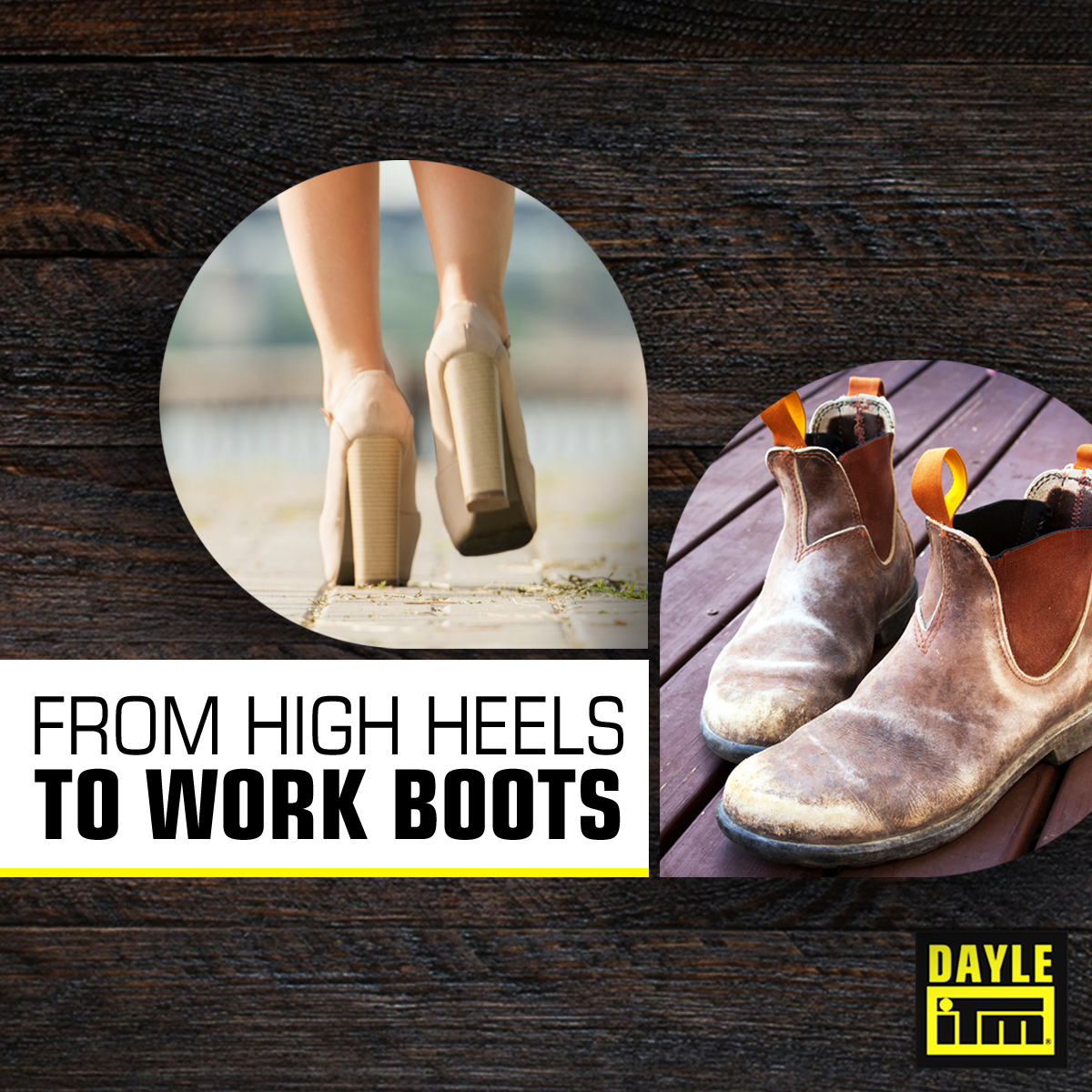 Building is for blokes and that's the way it's always been. Right? Not any more. A transformation is under way with more and more females entering the industry.
At ITM, there are more women working on staff than ever before. The ratio is around 35%, up from 20% five years ago. Many are in management positions. More than 15% of ITM stores are managed by women, and the trend is gaining momentum.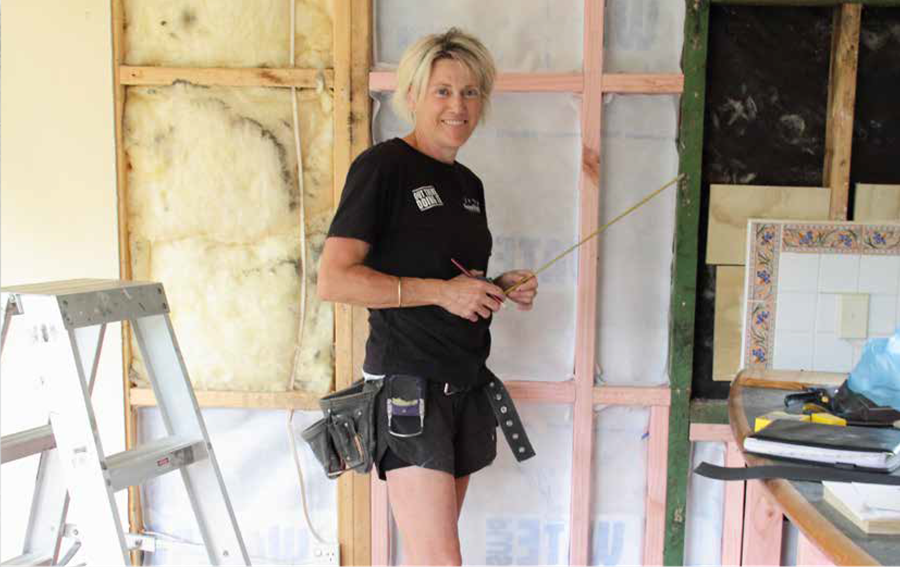 From flight attendant to builder
Formerly a personal assistant to high-level executives and an international flight attendant with Air New Zealand, Angeline (Ange) Johns has taken on an adult apprenticeship to become a qualified builder.
She's given up the "lipstick, make-up, beautiful nails and clothes" for a down-to-earth wardrobe and a job that involves mud, dust and tough physical work.
"I enjoy what I'm doing now because it's different every day," says Ange. "My dad was a bit of a handyman and I've never been shy of doing things around the place. I'll always give it a go."
How did she get a building job?
Ange and her husband were building a new home in Auckland and Ange decided that she wanted to help with the day-to-day work on site. The company doing the job was Paul Thorowgood Builders.
Says Paul: "She's very good at organising, plus she's really good on the tools as well. I was totally surprised at her skill set which is amazing.
"She's very detailed and organised, and I'm like that in my work too. And when you find people with like minds, they fit in really well. So you just grab them and don't let them go."
Ange recalls: "We were having a bit of a chat one day, and I had just left my previous job and wasn't quite sure what I wanted to do. Then Paul said off the cuff, hey why not come and work for me?"
How do people react?
"My friends know me; I'm always willing to give something a go. My family are totally fine with it. I have a lot of tools, and one of my sons, he said 'like, oh my gosh I've got two dads now'. We had a laugh. I guess I'm not like a typical mum.
"With my daughter, it's opened her eyes to the fact that she can do anything she wants, and that's tremendous. If she did want to go into the building industry, I'd support her 100%. There's a lot more acceptance of women in the trades and there are great opportunities.
"I got on pretty well with all the guys on site straight away. I'm not shy; I was brought up in a family of boys. I can give as much as I get. If you're going to be precious about silly things, you're in the wrong industry."
What the boss thinks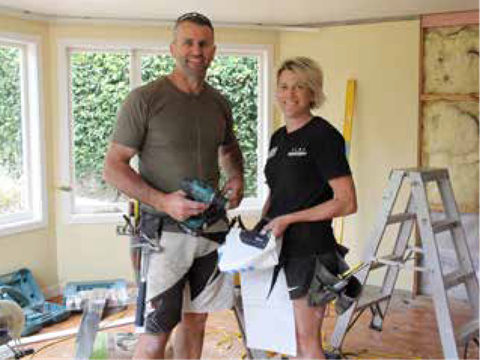 "When I saw her in action, I pretty quickly found out how savvy and how good she is thinking on her toes," says Paul. "I can see how much she's enjoying it.
"Ange will do any job without questioning. She can be up to her armpits in mud happily slopping out a hole with concrete coming, whereas you get some of the young fellas and you need to give them a bit of a nudge.
"My clients love that we employ women. We deal a lot with women as they tend to be the driver behind improving the family home.
"She just gets there and gets in amongst it, and she's good fun to boot. Tradies, subbies, reps, they all treat her just like any other person on the job. The thing is she has proven herself so many times in so many different aspects of the job. She's a pretty awesome person full stop. They broke the mould when they made her."
Career path
So what's the long term plan?
"Being older I think I've got the "can do" attitude and will try my hand at anything. Even training as a flight attendant you had to lift a 20-kilo box over your head, so I don't have any issues with heavy lifting. In any event, we always work in teams to there's always someone to help.
"Long term, I see myself definitely staying in the building industry, but maybe I'll branch out into other areas such as being a BCITO Training Advisor or a Building Inspector. There are heaps of opportunities, but right now, I'm totally happy we're I'm at. I love my job."
She'll see you right
We spoke to a number of female ITM store managers around the country to get their perspective on women in the building industry.
We are very good at organising things
I've grown up in the family business, and when I was at school I worked in the store on the weekends. When I left school, I joined up pretty much straight away. There are nine employees in our store, and four of them are women.
Funnily enough, I find a lot of the builders tend to gravitate towards the women when they're looking for some advice about building products. I think women in general seem to have a better eye for detail whether it comes to the bathroom or cladding.
Quite often when a builder phones and one of the guys takes the call, they'll often specifically ask to talk to one of the females for that reason. My friends, a lot of the kids I went to school with, they think it's cool that I'm working in the building industry. A few years back, it just wasn't an option; you just never thought about it as a career choice.
I would definitely encourage other females to get into the industry. I think we are very good at organising, plus we pay greater attention to detail; I think that's why we do so well in this business.
Some people think that I don't know anything because I'm so young, and I'm a female. But once a builder gets to know me, they know they can trust that I'm going to get the job done and I'm not going to forget the little things.
By Rachel Basher - Basher's ITM
You're a woman, what would you know about building?
I've been with this company 20 years and in the early days, it wasn't uncommon for builders to come in the store and they'd look at you and you'd see them saying to themselves 'you're a woman, what would you know about building work?' They'd walk right around you and look for the closest male.
But now it's a completely different story and women are totally accepted in the industry. If you look at all fields of construction now – pre nail, digger drivers, truck drivers, block work, builders, painters, plumbers – there are women in all fields, whereas up until around seven years ago, it was almost unheard of.
We have two other women working here in our store and they're fully accepted by our customers. They have faith in that yes, we can answer their questions.
By Wendy Fish – Western ITM Kumeu
Often, the guys make a beeline to the female staff
I've been in retail 24 years, seven of them at the Warehouse Group as a buyer for underwear, socks and hosiery, so it was a big change to move into the building industry with no background in building.
There have only ever been a couple of instances in the last 10 years where I have been ignored because I'm female. Their attitude was, 'well you couldn't possibly know that.'
Of our 21 staff over two stores, there are now seven females and the ratio is definitely increasing in favour of women. We have found that a combination of a male and female on the counter really helps our business. Often, the guys make a beeline to the female staff, especially when they want paint or kitchen or bathroom fittings and such like. In fact, after studying the dynamics in both stores, we'll always try to have a male and female on the counter where possible.
By Danielle Moa - Far North ITM
It keeps the guys a little more in line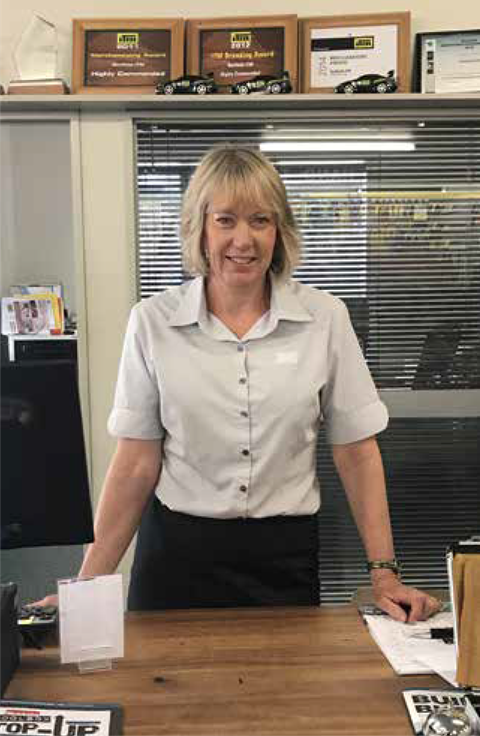 The locals we've dealt with for years have been great, but a few new people coming into the store are surprised to see a female manager.
I do remember one instance about eight years ago when this customer came in and he refused to talk with one of our female staff. She was really good, she knew her stuff, but he just wouldn't let her serve him, no way.
But it doesn't happen anymore, our customers have confidence in dealing with our female staff knowing they can multi task and have attention for the detail especially in the trade department. I was the only female here when we opened the store in 2004 and now, females make up about 35% of our staff and that number has been growing steadily.
I know of two female builders who work for clients of ours. They're very highly regarded. One works for one of our shed builders and he thinks it's great, she is extremely capable, it keeps the guys a little more in line and they don't push the boundaries as much.
Another builder, had a foreman that was a female and she was great, very organised getting the materials. A lot of builders ring up and want it there and then whereas females seem to be able to organise things a little bit better and give you reasonable notice.
By Faye Saunders - Darfield ITM