How Much is a Kiwi Builder Worth Today?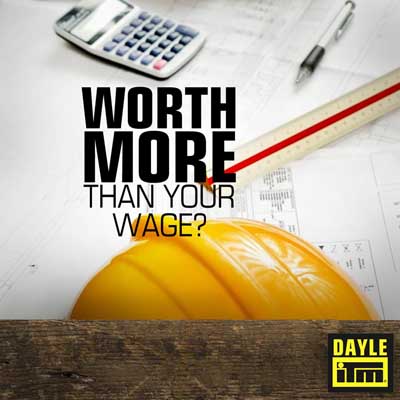 How much is a Kiwi builder worth today?
Councils consented a record $16.4 billion of new construction last year, and builders right now are run off their feet. So what's happening to their pay? Demand for builders currently far exceeds supply, especially in urban areas, and you would expect pay rates to go up.
But there is a tempering effect being brought about by foreign labour. The Canterbury rebuild stretched New Zealand's skilled building resources, and just when there were signs that it might slow a little, the upsurge of building in Auckland and other areas, plus record migration, have combined to create a perfect storm. According to AWF, one of the larger of the specialist trade employment agencies in New Zealand, there is definitely disparity between the pay rates of builders in urban areas and those out in the sticks.
"The three main metropolitan areas, Auckland, Wellington and Christchurch, have a real dearth of good quality qualified carpenters – people who get on with the job and exercise sound judgement – as opposed to having to be constantly supervised," says Fleur Board, general manager of trades at AWF. "In the main centres, we pay between $28 and $35 per hour, whereas in regional areas, with a few notable exceptions, we pay around $25 an hour, sometimes a little less. There is a real premium in the metro areas.
An important calculation to consider with these indicative rates is that they are what the employment agency pays the builder. There is a margin of up to 40% on top of this to take into consideration. Factors like ACC payments, Kiwisaver, Holidays Act entitlements as well as other tax and compliance costs, plus employment agency fees.
So the cost to the building company employer in the main centres is between approximately $39 and $49 per hour, and around $35 per hour in smaller towns. The company engaging the builders will require a margin for administration, and at 10%, this would make the charge out rates in the main centres between $43 and $54 per hour, and $38 in regional areas. "On big commercial projects and large scale residential projects, there is real leaning to using foreign workers," says Fleur. "In Christchurch for instance, 35% of the building industry workforce is Filipino.
Increasingly you'll find the same thing likely to happen in Auckland. So what about the future? There is evidence that builders' pay rates are creeping up, and with so much work in the pipeline, wage inflation is inevitable. But the ready availability of foreign tradespeople will likely prevent big wage spikes.
"The people from overseas are generally available at lower rates. Their versatility isn't as great as NZ builders, but their productivity is very high, much higher than the norm," says Fleur.