Introducing Health & Safety Stationery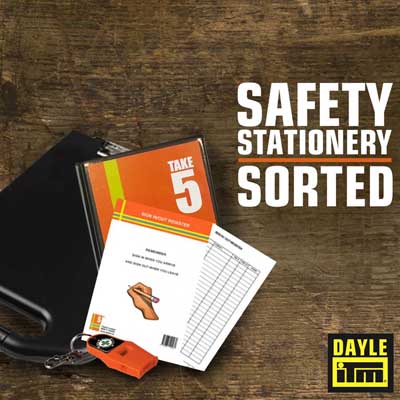 Designed by health and safety professionals, the stationery has been designed to help you comply with Health and Safety requirements. And when you run out of any forms, refills are available from the TAKE 5 display stand. $495 Excl GST.
TAKE 5 – HEALTH AND SAFETY MANAGEMENT PACK: Start with the small business Health and Safety package. The pack includes a health and safety management plan, emergency response planning and policies.
Provided you utilise the system and the documents enclosed, this will help your business meet health and safety obligations under the Health and Safety at Work Act 2015. This is a one-off cost. The pack can be used more than once and be taken from site-to-site.
CONTENTS INCLUDE: • Health & Safety policy and statement; • Toolbox talk/safety meeting pad; • Incident and investigation report pad; • Driving policy; • Health and safety management plan and supporting appendices; • Emergency response plan; • TAKE 5 booklet; • Site induction pad; • Site inspection pad; • Job safety analysis pad; • Sign in/sign out pad; • Storage clipboard; • Pen and whiteboard marker; • Emergency whistle; • How to use guide.
To purchase a Health & Safety Kit call in and see us or click here to reserve yours.