Merry Christmas, from IRD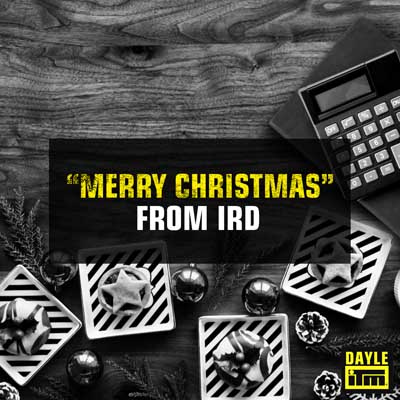 On January 15, IRD expects the second instalment of provisional tax for the 2018-19 income year and GST to be paid. Now two tax payments due on any given day is never ideal. But the timing of this double whammy hurts.
January's a month when cashflow can be difficult. Findings from Xero's Small Business Insights showed that January 2018 was the weakest month, with only 38.6 percent of respondents being cashflow positive.
IRD charges interest of 8.22 percent and late payment penalties if you opt to ignore your tax obligations. Construction is an industry IRD's currently monitoring, so it's even more important to keep on side with them.
Pay provisional tax when it suits you
An IRD-approved tax pooling provider gives you the option of either deferring the full provisional tax payment due on January 15 to a later date or chipping away at what you owe in instalments, without incurring late payment penalties.
The interest charged by the provider is much cheaper than IRD's. Their rate is also more favourable compared to an unsecured loan or business overdraft. Approval's guaranteed, and no security's required.
The small things make a big difference
Below are some common-sense things that I'm sure many of you will do to ensure you are January 15 tax-ready.
Plan ahead
The key to managing cashflow is identifying issues before they become, er, issues. Start by reviewing the books and making sure they're up to date to establish where you stand. From there, put together a cashflow forecast and budget to figure out what you need to cover costs during your break, especially if it's going to be a few weeks before you start earning again.
Chase, chase, chase
Go through your debtors' ledger to see if anyone who owes you money can pay early. Consider offering a discount to encourage them to do so. Vigilantly chase any outstanding money owed to you.
If you owe suppliers money, try to come to an arrangement to pay them later.
Explore your options
Other possibilities include setting up an IRD payment plan or getting a short-term loan from the bank. However, as part of this process, you'll need to supply financial information and/or meet certain criteria. IRD interest will apply during any arrangement you strike with the taxman.
Seek professional advice
Don't leave it until the last minute to chat with your accountant. That's how a problem becomes a crisis. A good advisor will work with you to achieve a desired outcome.
by Lee Stace