No apprentice? Why not?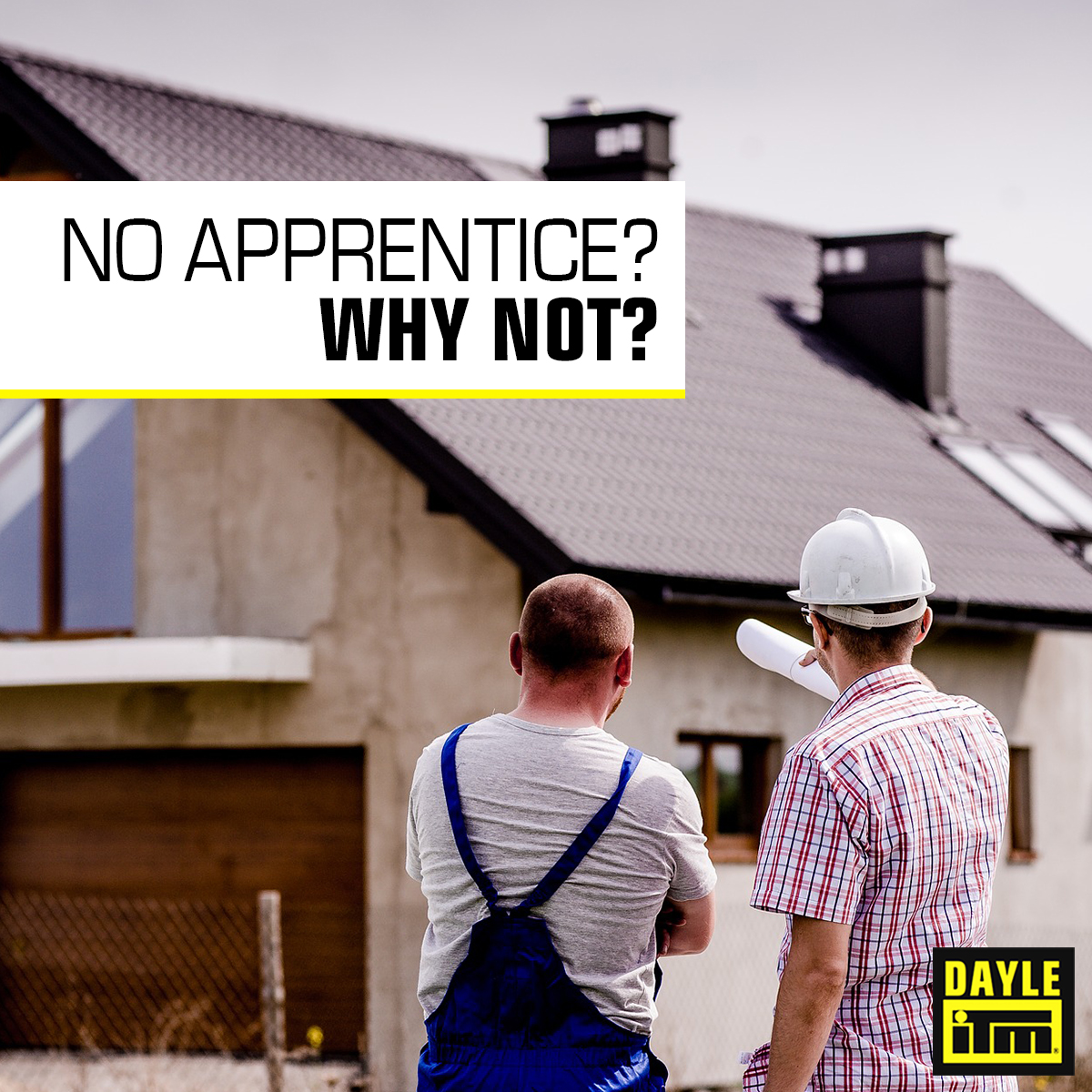 Warwick Quinn and Grant Florence have some ideas about how things can change, and they believe now is the perfect time to sort it.
Warwick is the chief executive of the Building and Construction Industry Training Organisation (BCITO) and Grant heads up NZ Certified Builders, the organisation that runs the ITAB apprenticeship scheme.
"We need to train more New Zealand tradespeople, or we need to bring in people from overseas and train them to our standards. Either way, we have to increase the number of builders willing to take on apprentices," says Quinn. "If we could increase the number of building companies taking on apprentices by just 5%, it would make a big difference, and we'd get somewhere close to matching the skilled labour needs in the industry."
Commitment
Quinn and Florence say the two underlying reasons why builders are so reticent to take on an apprentice are fear of commitment and cost. "The nature of the building industry in New Zealand has always been a bit boom bust and the idea of not being able to keep an apprentice in work through the downturns is a major concern," says Florence.
"They've been through the bust cycle and that memory is still fresh today. However, with the current workload ahead, that should be much less of a worry. This building boom is on for the foreseeable future. Just read the papers."
Cost
The building industry is made up of a lot of small companies – 90% have 9 employees or less – and around 60% of companies are one-man bands. Small firms tend to think of training as an expense rather than an investment.
According to Florence, there is ample evidence to prove that taking an apprentice is financially beneficial for a company. "They think taking on an apprentice will be a cost to the business, but the research we've done shows that's not the case at all. If you do a return on equity calculation on it, you might not get a full cost recovery in year one, but in year two, three and four, you'll definitely be getting full recovery."
More help for employers
BCITO and ITAB are currently working on programmes to provide more assistance for builders who take on apprentices. "We're now able to provide a lot more help in all areas, right throughout the process," says Quinn. "For example, we've developed an employer mentoring scheme for training the trainers, to help them go through a better assessment and matching process with apprentices.
"Usually, an apprentice comes to us when they've already signed up with an employer, whereas it would be much better if they both approached us beforehand. Taking on young people just getting into the workforce can seem like a bit of a lottery; they haven't developed a work ethic, and can sometimes be a bit unreliable, especially when they go flatting.
"When the apprentice is living at home and they've got mum to get them out of bed and provide lunch and things, they're great. You can kind of tell when the apprentice goes out flatting, for the first time, that's often when the employer starts saying, hey what's going on here…. your performance wasn't what it was.
"If we spend more time up front with potential apprentices getting them over that ready-to-work hurdle, and employers new to the trainer role, and follow through with ongoing help over the first 18 months or so, we can smooth out the bumps."
Shorter specialist courses
Another initiative being developed is to introduce new courses to reflect the change in the way things are done in the building industry nowadays. There has been a big increase in specialist supply and install companies – for example, frame and truss, plasterboard fix and install etc.
"We're seeing a lot more specialisation where a company focuses on just one part of the building process," says Quinn, "so there is a need for courses to reflect this trend – shorter courses in specialist areas, which don't require a full apprenticeship.
"Someone specialising in one discipline can go on from there and possibly do other modules in other specialist areas of building and construction, leading to becoming a fully qualified builder.
"We need to encourage shorter, more focused courses, which are currently not covered by the government's fee scheme. We believe this would be a logical next step for the government's initiative.
"For the industry to be able to respond to the current demand, and to reach the KiwiBuild target of 100,000 affordable new homes within 10 years, we are going to need more specialist skills.
"We're doing a trial starting this year with six different trade specialist companies. It's great for the companies and great for those who don't want to do the full-on apprenticeship thing, and in the meantime, it gets these young people on the ladder."
Financial incentive for employers?
Small building companies and one-man bands don't tend to take on apprentices. But for six months in 2013, under the Government's 'reboot' scheme, that changed, as subsidies were handed out to employers and apprentices.
The scheme was aimed at improving numbers in the industry as the Christchurch re-build began, and to help cope with the Auckland housing crisis. Quinn and Florence believe a similar plan could be timely now.
In the last 12 months, the demand by builders for apprentices and the number of people seeking apprenticeships is pretty well matched, although currently, there are "more builders looking for apprentices than the other way round," according to Florence.
"A scheme like 'reboot' could be good. But I think if central government wants to support the industry, a better option would be a commitment to supporting the employers in the downturns so they have the confidence to take on an apprentice even if the building industry takes a dip in their area.
"We know that future activity is going to be high for many years to come, but much stronger in the north than in the south. So some kind of support for those in the south, in certain areas, could be worth looking at."
Not enough Kiwis
Another contributing factor to the critical shortage of apprentice tradespeople is the fact that fifteen years ago, New Zealand had a very low number of births and consequently, there are fewer school leavers coming through the system.
Around 65,000 workers are needed in construction in the next five years, and growth forecasts for qualified tradespeople in New Zealand in the same timeframe is about half that number. So even if we can ramp up the number of builders taking on apprentices, there will still be a shortfall.
As happened in the Christchurch rebuild, the gap was filled by overseas tradespeople, but with pending immigration cuts, building industry productivity could be disadvantaged.
"I think the Immigration policy will have an effect, absolutely, but I've heard Minister Twyford already talking about potentially exempting construction from the immigration targets by bringing in KiwiBuild apprentices or KiwiBuild immigrants", says Florence.
"Labour has said that the KiwiBuild programme would be implemented in conjunction with a KiwiBuild Visa to address current skills shortages in the sector. But the KiwiBuild visa scheme is limited to between 1,000 and 1,500 at a given a time. So it looks like there will be a significant shortfall.
"I think the government today is realising that if they want to cut immigration targets it's going to affect their ability to meet their building targets. They've made some pretty bold promises."