Plyscrapers reaching for the sky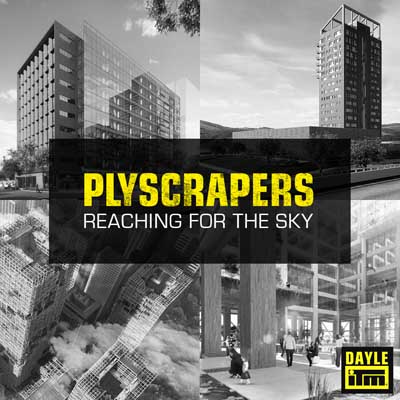 While New Zealand has been a pioneer in the field, our timber-engineered structures have yet to soar to the lofty heights of what's happening elsewhere in the world.
Construction of the tallest timber building in Australia is full steam ahead in Brisbane and due for a grand unveiling in the next few months.
At a height of almost 45m and 10 levels, the building at 5 King Street will be (according to the developers) "the tallest and largest engineered timber office building by gross floor area in the world."
The structural skeleton, walls, floors and ceilings in the building are all made with laminated timber.
The developer (Lend Lease) reports the design has helped cut construction time by 30 per cent and significantly reduced the number of workers required on site.
Even bigger
In the immediate future, Norway is set to claim the "official" world record around March next year with the completion of an 81 metre 18 storey tower in Brumunddal, 100km from Oslo. The building will be mixed use with offices, hotel and apartments.
In a press statement, the developers explain their reasons for using laminated timber:
"The Mjøsa has been designed to withstand a burnout fire. This means a fire that is allowed to develop freely without active extinguishing.
"The glulam structures retain their load-bearing ability in a burnout fire (because) it acquires a protective layer of coal that denies the fire the ability to keep going, and it dies out.
"The structures are also positioned at a sufficient distance from each other so that a fire cannot keep going by itself when only the structures are on fire. This prevents the building from collapsing."
The biggest and bestest
Japan has a plan to seriously dwarf all others: A 70-storey wooden skyscraper commissioned by Japanese wood products company Sumitomo Forestry to mark its 350th anniversary in 2041. The building will be 90 per cent wood.
Of course, with America's proud record of building mega structures, there's a good chance they will rise to the challenge with a hugely winning effort. Maybe the next Trump Tower will be an all-wood structure? Watch this space.