Sort your LBP Points the easy way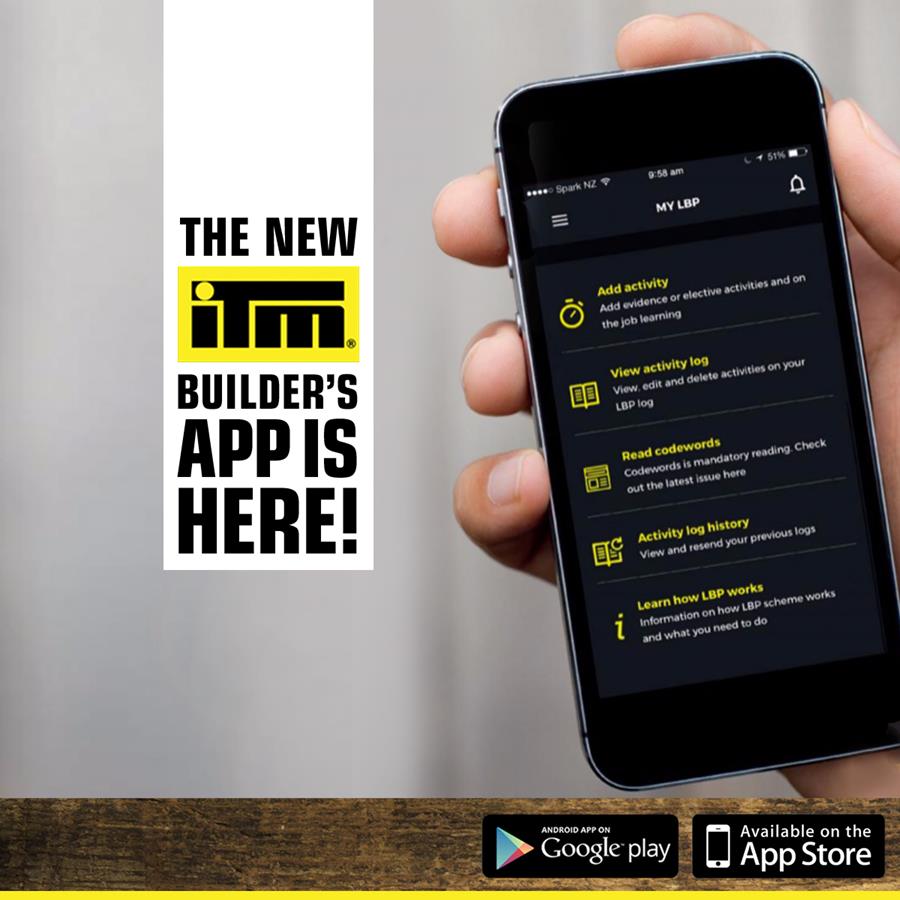 Sort your LBP Points the easy way
ITM are making your life easier with a new tool to manage your LBP activity and get the latest industry news.
ITM have been working closely with MBIE to make managing and recording your LBP points easier. The newly developed ITM App is available now for
free and makes the entire process simple with each step explained.
The App is built around the new LBP Skills Maintenance scheme and makes your elective activity and on-the-job training simple to record and secured in one place for when you need to complete your relicensing.
Adding activity is quick and easy with a five-step process guiding you. Once you've added a few details you identify when the activity took place, how long it took and then you can choose to add evidence of the activity by uploading a photo straight from your device. At any point you can check your activity log to see your history and how you're progressing towards your requirements.
Codewords: Codewords from MBIE is mandatory reading under the LBP scheme and each issue of Codewords is available in the ITM App. You can choose the issue you want to read and any articles you read can be added to your activity log. You can see which articles are going to be the most relevant to your license class from the symbols next to them.
Send your activity to MBIE: Once you've met the requirements of your license class and you're reaching the end of your license period you can generate an activity log that will be emailed to you. This is an easy way to show MBIE that you've satisfied the requirements to remain an LBP
News and notifications: To make finding the latest industry news and events easier for builders, we'll be updating the app every day with new content. You'll receive notifications based on your interests, license class and what activity is happening in your local area. This means you'll always know when the next LBP training event is or more importantly, the next Builder's Breakfast or sale day. If you're an LBP then your time spent reading and learning can be recorded in the ITM App making sure that you're on top of your LBP requirements. You can expect to find high quality articles like you do in this magazine, but we also have some special features – like the latest adventures from Matt Watson and the ITM Fishing Show as well as insight and analysis on the rugby scene from Wynne Gray. We also have the racing legend Greg Murphy sharing motorsport stories - so there really is something for everybody!
Product Information: We've put together some of the most commonly searched technical product information and compiled it in one place. If you're looking for information on a particular product or brand this is a great place to start looking. This means if you're on site and need to check some details you can find the latest documents direct from the suppliers.
Get the ITM App today Downloading the ITM App is just the beginning as we have some interesting new features in development and we'll be updating the ITM App as soon as these are ready.