Supplier of the Month September 2014: Dricon
Dricon CivilCrete is a 30MPa fast setting high strength general purpose concrete. It is workable for approximately 10-15 minutes and sets in approximately 30-45 minutes, making it perfect for jobs where time is critical. Once properly mixed, it's as reliable as the product you'll find inside Firth concrete trucks. CivilCrete is ideal for those professional jobs where time is short but a super smooth finish is required.
CivilSet is 30 MPa dry concrete with special additives that ensures the concrete will set in 15 minutes. Warmer temperatures give a faster set time, colder temperatures a slower set time. Premixing will not disrupt its fast setting properties, making it ideally suited for civil applications. Civilset is suitable for jobs where a fast setting pre-mixed concrete is required.
Trade Mortar is clean graded sand, cement and plasticiser proportioned to give an ideal spreadable and workable mortar for all types of masonry, brick and stone work, for the trade. Trade Mortar is formulated to reach a target strength of 12.5MPa in 28 days thereby meeting the requirements of NZs4210:2001 Masonry Construction: Materials and Workmanship.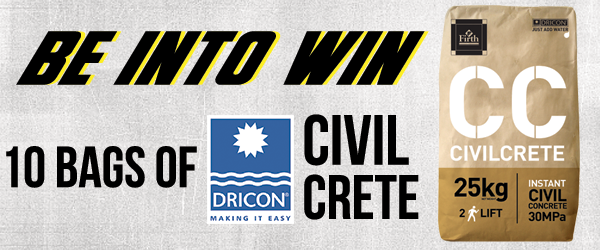 BE IN TO WIN! If you're on the Dayle ITM Mailing list you're in the draw to win 10 bags of Dricon CivilCrete. Not on the list? Click here to join and enter the draw. Entries close 30 September 2014.