The Apprentice Diary: Entry #12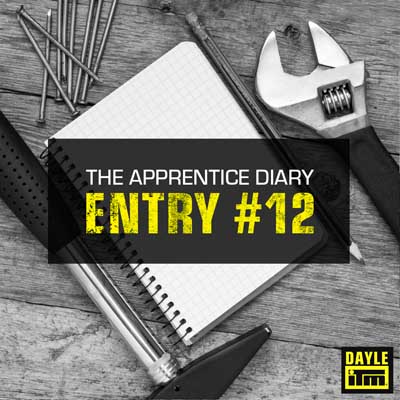 After a week of set out, digging footings and four metre pile holes, followed by a week of tying steel out of and in the ground, I find myself finally seeing things coming out of the ground. After pouring the footings, then the block work, we are now into laying the polystyrene pods (it's a pod floor) so are effectively already out of the ground. The end of this week will see us pouring the slab, then we can confidently say, we are in the clear.
Planning ahead
Knowing the new build was coming up, I asked for a set of plans the week before we started so I could familiarize myself with the layout and make any notes of details I didn't understand. Now this may seem a little nerdy, but when the other apprentice turned up on site not knowing the plans or what the house should look like, or where it was going on the site, the foreman soon realized who was going to be the easier apprentice to deal with that day/ week. No prizes for guessing, but it wasn't the other apprentice.
The lesson here, is to be prepared. Now, I'm going whole hog at this one to be fair, I'm organizing subbies, materials, inspections, and even taking the inspections too. The foreman is keeping check in the background, but it's already giving me a much better appreciation of all the things they have to think about. Most of all, how far in advance they are thinking, especially when you have longer lead times on things like your prenail, which for us is four weeks away.
As always there are lots of aspects to learn. Some major learnings on this build have been; how to set out a house, marking footings for the digger, then tying steel cages and connections to steel piles in the ground. Even working with the blocklayer has been an eye opener. We have both brick veneer and weatherboard on this build.
Making the most of it
So as you can see, even in the past two and bit weeks, the learnings have been massive. I'm trying to soak it all in for my apprenticeship as we rarely get the chance to set out due the nature of my company's business. I'm hoping I can get a few of these topics signed off now, which would be great.
Now I'm about to head into my third year in October, I'm really starting to find my feet and get stuck into the chunkier parts of the build. I can honestly say that I'm still really enjoying the daily challenges, plus the abundant amount of learning that's at our fingertips
Till next time, stay safe.
by Stu Foster
Apprentice
Highlights
Best job: Site set out
Worst job: Pulling slop out of footings
Most useful hand tool: Spirit level
Most useful power tool: Laser level
Apprentice tip: Prepare for the week ahead, think about what you will be doing before you get stuck in