The Apprentice Diary: Entry #13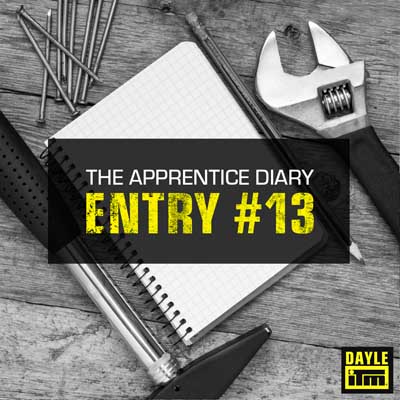 With increased confidence comes more responsibility and less spoon feeding. The foremen now either leave me to it, or simply say, "Look at
the plans" if I get stuck. I must admit, starting to read the plans is the best thing I could have done, conversations with the boss are a lot more technical too, with him even asking my thoughts on how I interpret certain details.
Having confidence to undertake a task is one thing but doing it quickly and efficiently is another. Efficiency is a big factor in building, no one likes repeating a task, or making extra trips back to your hardware stock. Our job is hard enough without the extra work or walk. Efficiency can also be thinking ahead, we were recently standing frames and then doing our midfloor joists. Whilst I was standing the frames, my boss had worked out where all the joists were going to land on the trimming joist and so had installed all the joist hangers before lifting into position, a lot easier to do on the ground.
One other thing I saw recently was a drying system when we were staining some cedar weatherboards, some 4x2 with a row of nails turned into a good drying rack.
No room for error
It's also very important when running a job, making sure all the subbies and materials are on time and in order. It's at the forefront of my mind at the moment as we have been hauling ass to get a 210m2, two-story architecturally designed new build done in four months, only for a delay in the cladding delivery from the supplier, this has left us with a few days of almost twiddling our thumbs. It makes us highly aware that without the right timing, things can unravel very quickly, and ultimately hit our back pocket, with days off due to no work. Luckily these are few and far between.
Different strokes for different folks
As a final note, I was looking at all our 'tradie' vehicles lined up on site the other day, it was funny to see the variety used, there was one ute, two vans, a Honda sedan, my people mover (please don't judge me, I have kids), and a Mitsi Evo 10. I guess everyone has different requirements in and out
of work for their vehicles, but I guess as long as it carries your tools, it's all good. Still not sure about the Evo 10 though, I mean who brings a rally car to a building site?
Till next time, stay safe..
by Stu Foster
Apprentice
Highlights
Best job: Taking building inspections
Worst job: Screwing down purlins
Most useful hand tool: String line (for setting out bottom plates)
Most useful power tool: My new skill saw blade
Apprentice tip: Keep your nail gun and drill boxes closed on site to stop dust and crap getting in there.