The Apprentice Diary: Entry #14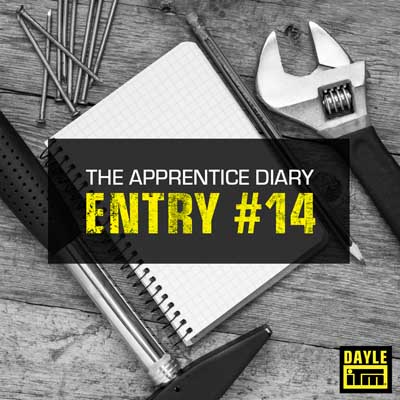 To make things more interesting, added into the mix have been bridge footings, pod floors, under floor heating, polished floors, 2.7m studs, and a brick ground level with cedar upper. The drain layers are here just finishing off the storm water and sewer connections, but once they are done, the concrete drive way will go down and it's done.
There's been some challenges
Although I guess it's been technically easier than an extension or reclad, it hasn't been without its problems. I thought going into it, maybe naively, that it would all fit together like a giant Lego set, well kind of. But there has certainly been a lesson in full project management with subbies, client liaison (the client lives next door), ordering of materials and adjusting timelines as we go.
Key learnings
I have picked up on two key learnings from this project. Firstly, it really helps to have all the finished materials and products agreed on up-front. Things like colours for bricks, roofing, and spouting, then the door hardware and bathroom ware. Secondly, the use of a timeline for the client saves lots of questions further down the track. They can have visibility of when certain aspects will happen or are likely to be completed. This goes hand in hand with the materials spec list.
Some clients are so busy with their normal daily life that they need the builder to take the lead somewhat and talk them through all, or some of the options. Now, this may be standard practice for some of you, but for a small family owned business such as the one I work for, it's a little hit and miss. We'll get it right though, or closer next time.
Keeping it safe on-site
I was assigned to the health and safety 'sign-in' on this site too. I think I managed to sign-in 95% of all the subbies onto the site and give them a basic site induction. It's funny though, only one subby asked whether he needed to be signed in. I know everyone knows their way round a site, but I'm still surprised no one really cares that much. I guess it's the 'just get in and get it done' attitude.
Bookwork
On a final note, as well as signing off a few of the bigger practical aspects on my apprenticeship, I'm trying to keep on top of my bookwork too. I should have that all squared away in a month or two, leaving only the practical to focus on. Hopefully, I should complete my apprenticeship within three years, then the real hard work will start. Till next time, stay safe.
by Stu Foster
Apprentice
Highlights
Best job: Installing doors and door hardware
Worst job: Staining cedar weatherboards
Most useful hand tool: Sharp chisel, essential for door hardware
Most useful power tool: My Makita droppy for finishing lines
Apprentice tip: Keep your work vehicle clean and tidy.