The two biggest cashflow mistakes tradies make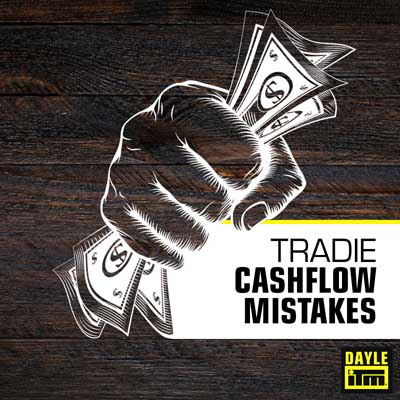 It's a familiar story and it goes like this:
A few people haven't paid you.
Now suppliers are expecting you to pay them their money.
Things are getting stressful.
You're starting to feel the pressure.
Every business goes through this. You're not alone.
Mistake 1: Giving too much credit for too long.
Credit can be dangerous and is one of the biggest downfalls for trades. Many have gone broke because their biggest client didn't pay them. Or at the very least have been stressed out with strangled cashflow at the end of the month looking for enough to pay staff, suppliers and the bank while waiting for overdue amounts to come in.
How much have you lost in money and time through late payers and bad debts?
The fix is to have strict credit terms, take deposits at the beginning of jobs, progress payments on big jobs, and be prepared to stop work if the account is not paid on time. Only when you are paid can you say the money is yours.
Mistake 2: Not billing everything out on time or at all.
Often, especially on complex jobs, bills are sent out months later. Some details are forgotten, so not everything is billed, or worse the job is not billed out at all. Get your team to record all details of jobs including extras (materials and labour) on the job. Then make sure you invoice everything on completion. Pay special attention to cashflow when your tradie business is growing. If you aren't getting paid all you're due, you are going to feel the squeeze and it's not going to be pleasant. Poor cashflow is actually the main reason businesses fail. So be proactive. Don't try to wing it, ok?
by Daniel Fitzpatrick
Next Level Tradie