Thermakraft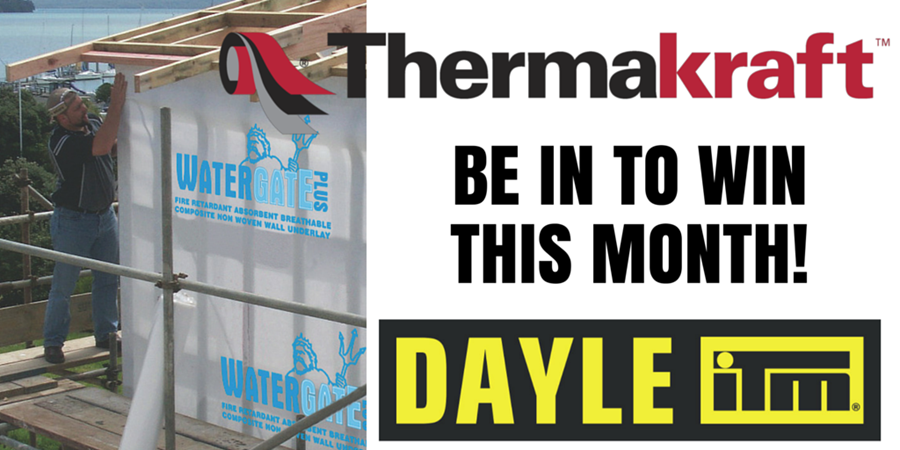 By receiving our monthly newsletter you're automatically in the draw for our fantastic Supplier of the Month giveaways.
This month, the good guys at Thermakraft have supplied $600 worth of their fantastic Watergate Plus 295 lining for you to win.
A bit about Thermakaraft:
Thermakraft Industries (NZ) Ltd has been operating in the New Zealand market since 1987. Our manufacturing plant, research and development laboratory and distribution warehouse are all based on 1.2 hectares of land in the industrial region of East Tamaki, Auckland.
Watergate Plus 295: Fire Retardant Absorbent Breathable Wall Underlay. Is a white composite Non-Woven polypropylene, specifically designed as a Wall Underlay behind exterior wall claddings. Watergate Plus offers a high degree of water resistance, with a high level of water vapour permeability.
Key Features: Fire Retardant, Fully Synthetic, Air Barrier, Direct Fix Metal Cladding.

Thermakraft is committed to industry leading service levels, providing quality products at a competitive rate, with the highest levels of technical support.
Thermakraft continues to push the boundaries in developing and sourcing the best raw materials to meet your needs in a continuously evolving environment. Thermakraft's large and varied range of products are available at Dayle ITM.