Tips and tricks with contract works insurance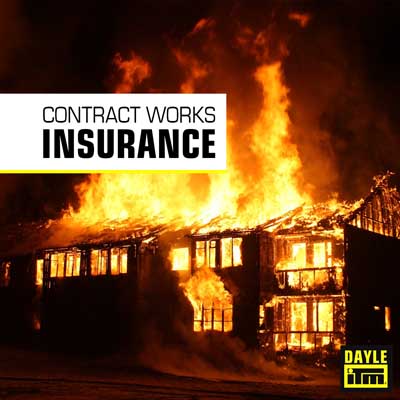 What it covers
The policy covers accidental loss or damage to the contract works, such as from theft, vandalism, accidental damage, storm, fire and natural disasters such as floods and earthquakes. Existing structures on the site are usually not covered unless you specifically include them. Some policies will insure existing structures, but only those that are being worked on, so separate outbuildings, sheds, garages, retaining or septic systems may not be covered. Make sure you also include in the policy the value of any materials being supplied by the owner too.
Who it covers
It insures both the main contractor and the building owner. It also commonly includes all subcontractors under a single policy (make sure they're included in yours). This makes it much simpler when dealing with a claim, as there aren't multiple insurers with multiple policies trying to work out who's responsible.
Who takes it out
For new builds it is typically the builder's responsibility to arrange the contract works insurance. Unless they are working as labour only, in which case the principal would usually do it.
For alterations and renovations to an existing structure the homeowner is generally responsible for arranging contract works insurance, which is most commonly done with their existing house insurer.
Sometimes, if this proves difficult or costly they can arrange it separately, for example by using Builtin's online contract works system. Regardless, they must notify their house insurer that work is being done, or they could jeopardise cover on the existing structure.
If your client is responsible for arranging the contract works insurance, make sure you see a copy of the insurance certificate before you start work. Even though they may be contractually obliged to take it out, that won't necessarily save you if damage is done and there's no cover in place, particularly if you're responsible for the damage. Does your contract include a penalty or make the client liable if they don't arrange this cover? Probably not, so better to ensure they've done it before you start.
When to take it out
You should arrange the policy before any work starts, and that includes earthworks and foundations. It can be difficult to get cover for projects that have already commenced. You're not saving any money by delaying when you take it out, as the cost is based on the finished value and overall timeframe for the build, from start to finish.
Builders building their own houses
When there is no client or bank requiring the contract works insurance certificate, builders often forget to arrange it, most commonly when they're building their own places. We often field calls when the builder goes to the bank for a loan to finish it off, and are asked to supply an insurance certificate. Arranging cover when the project is substantially underway can be more difficult and more costly.
When it ends
Cover under the contract works insurance usually ends on the earlier of: the end date on the policy; or practical completion of the work; or upon occupation by the owner (which could be temporary or partial); or if it's a spec, when 95% of the build cost has been spent.
Delays
If your project is delayed, arranging an extension to the policy can be more expensive than if you'd simply allowed for extra time from the start (even if you don't end up needing it). So give yourself plenty of time.
Cessation of work
Most policies will automatically expire if the site has been left unattended for too long. You should be aware of how long this period is and make sure you don't breach it, or speak to your insurer if something causes the project to be delayed.
Does it meet the requirements specified in your contract
New Zealand's most common standard form building contracts list specific allowances that must be included in the contract works insurance, such as for demolition, cost increases and professional fees. Make sure your policy reflects the figures in your contract.
Who pays the excess
Excesses for damage caused by natural disasters, hardly the fault of the builder, can be substantial in some regions, so make sure you have agreed who is responsible for the excess in your contract.
What's not covered
As with any insurance there are things not intended to be covered by the policy. Some common exclusions within contract works insurance include design and workmanship defects, hydrostatic pressure, consequential losses, gradually occurring damage and scratched glass.