WIN a Blues Rugby Jersey this Month!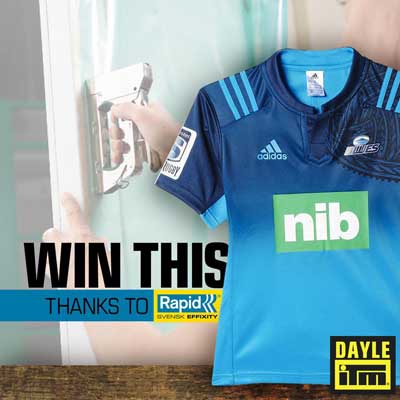 Be into WIN!
Thanks to the team at Rapid this month we are giving away a 2016 Blues season jersey to one lucky subscriber.
Rapid is one of the world's leading fastening specialists in stapling tools. Since 1936 Rapid manufacture is based on the concept of Swedish engineering, reliability and sustainability. Rapid is the Stapling tool of choice for all Trade Builders as proven for over 40 years here in New Zealand. Ongoing development and refinement has proven to enhance working efficiency and the stapling operation.
Check out these specials from Rapid only available in store May/June:
Rapid RT34P $59.50+gst - Powerful no compromises 140 series Staple Gun
Designed for the demanding professional operation.
New 3 step force adjuster
Uses 6-14mm Rapid 140 series staples
Bonus carry case includes bonus staples.
Rapid RH11 Hammer Tacker $66.95+gst - Powerful precision Hammer Tacker for demanding professional applications
Made in Sweden 2 year warranty
Well balanced with non-slip ergonomic handle.
Uses 6-10mm Rapid 140 series staples
Supplied with Holster
Rapid RH311 Hammer Tacker $96.50+gst - Hammer Tacker with superior precision and working life.
Buffer plate with a reversible driver.
Ergonomically balanced and non slip handle
Bottom Loading, uses 6-12mm Rapid 140 series staples.
Swedish made 2 year warranty.
Supplied with Holster