WIN a ECKO HAMMAHAND FC75 Weatherboard Nailer This Month!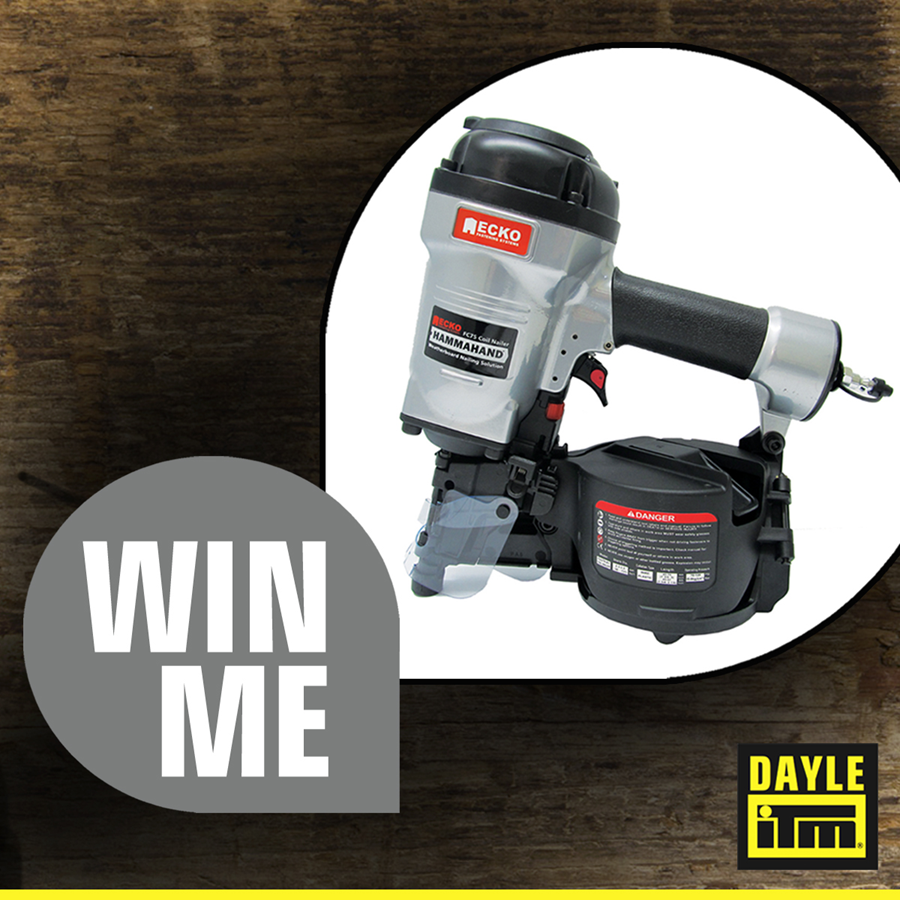 WIN a ECKO HAMMAHAND FC75 Weatherboard Nailer This Month!
ECKO is a 100% Kiwi Owned and Operated Company. This really means that ECKO are heavily focused on the New Zealand Market, whether this is in the Retail sector or in the Manufacturing sector.
ECKO has looked after a large number of manufacturing businesses for approximately 17 years. This covers Frame & Truss, Bedding, Trellis, Window, Kitchen and Pallet / Bin manufacturing. Customer Satisfaction is the driving force of the company and having the right tools with the right fasteners is a major part of the equation.
Darren Liu (Director) has forged this process throughout the company and its no fluke that ECKO has become a leading NZ Company in fastenings & fastening tools today.
A Classic example of determination is the PN38 (Joist Hanger Nailer). At the time, driving small bracket nails by hand was a standard but very tedious job. The amount of time involved for strap and bracket nailing is huge and spending a week on this job alone, was not unheard of.
ECKO in its infancy, recognised this time consuming, mundane but necessary job. Darren went about in finding a solution… Enter the ECKO PN38 Joist Hanger Nailer.
Naturally this tool was an "auto hammer" with hundreds of them being sold in a very short space of time. In fact, huge amounts were air-freighted in to cover the popular demand. The PN38 is still going strong today and has put a smile on many builders faces. That's a satisfaction that ECKO enjoys.
Having the passion and determination in finding a solution to those tedious jobs has become the path of success for ECKO. In fact they have made it their slogan ECKO Fastening Systems "makes your job easier."
More recently, the ECKO "Weatherboard Nailing Solution" has taken the building sector by storm. Once again, the job of nailing timber weatherboards as well as linea was a time consuming job, which includes a lot of hand nailing and the ECKO HAMMAHAND Range was born.
Fasteners in the HAMMAHAND Range:
Available in HAMMAHAND Round head & Jolt head in Galvanised & Stainless Steel.​
Tile & Slate 27mm
Soffit 40mm
RAB board & HomeRAB 40 & 50mm
Cavity batten 50 ~ 60mm
Plywood bracing 60 ~ 65mm
Fencing 65mm
Decking 60 ~ 75mm
Weatherboard nailing 75mm
ECKO HAMMAHAND products also cover most of the James Hardie building products range, and is endorsed by James Hardie.
Rest assured, ECKO are well underway in bringing more exciting products to the market, which are all focused on "making your job easier"
If you're signed up to our emails, you're automatically in this month's giveaway draw. Keep an eye on our Facebook page where we'll announce our winner at the end of April.