WIN a Micro Brewery Kit!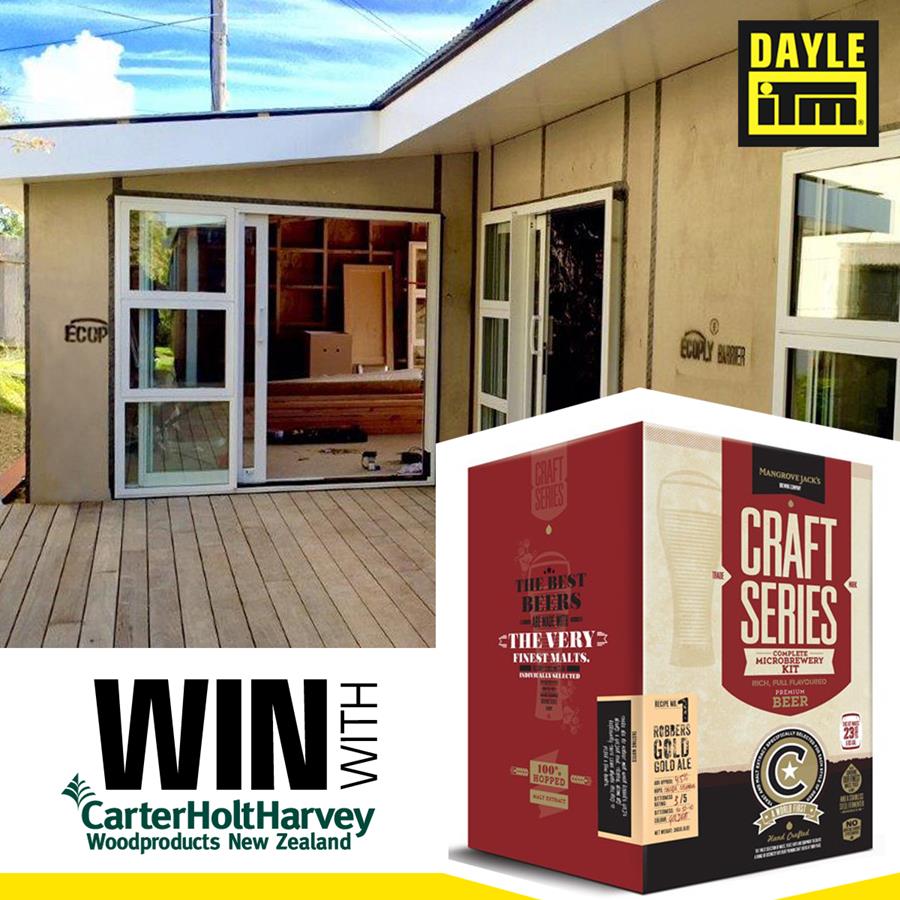 WIN a Micro Brewery Kit!
To get the trade ready for 2017, our mates at Ecoply Barrier CHH Woodproducts are giving away a home brewing kit worth $279.00 this month!
The Ecoply® Barrier System is a plywood- based rigid air barrier system designed to replace traditional building wraps and provide structural bracing. It consists of 7mm H3.2 CCA treated structural plywood which is coated on the face and edges using an advanced polyester coating process. This is systemised with Ecoply barrier sill, frame sealing and sealing tapes to provide a seamless protective barrier, it's tough, reliable and designed for New Zealand's harsh conditions.
The Ecoply Barrier System can:
Catapult typical residential builds forward by 2-4 weeks by providing early close- ins, allowing the interior to be started before the cladding has been installed.
Remain left exposed to the elements for up to 90 days.
Provide structural bracing.
Be easily installed with a simple two-step process – fasten the panels and tape the seams.
The Ecoply Barrier System is manufactured by Carter Holt Harvey Woodproducts New Zealand (CHH Woodproducts) who can trace its roots back to 1874. Robert Holt first opened his steam driven Sawmill in Napier and today, Carter Holt Harvey CHH Wood Products New Zealand is still proudly and firmly a kiwi business - employing over 1200 Kiwis at seven locations across New Zealand.
Imagine kicking-back after a hot Summers day of installing the Ecoply Barrier System, to enjoy one of your very own home-brewed beers. If you're signed up to the our emails, you're in our draw.