Meet Our Team: Bruce and Aaran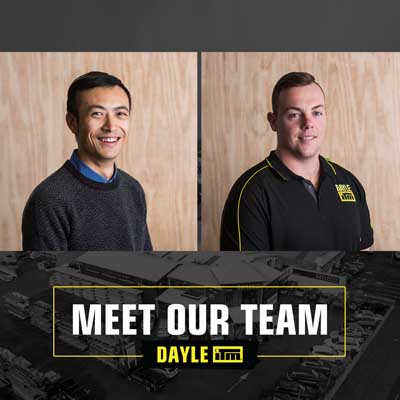 Meet Bruce, our Estimator
Introducing BRUCE! ...Not Lee 👋 Bruce is THE MAN with an eye for detail, so while his official title is Estimator, we think he's more of an Accurator.

OK, we know that's not a real word. Point is, Bruce is damn good at his job! He loves working with drawings and will always dot his I's and cross his T's to ensure the best result.

Bruce stays up with the play by listening to NewstalkZB, and gets most excited when chat turns to football ⚽ Give Bruce a wave next time you see him, and ask him how his favourite team is doing!

Meet Aaran, our Customer Service Rep
Give it up for AARAN! 🙌 Azza is a friendly face in the Customer Service team. He's an Auckland boy, born and bred, and as been with us here at Dayle for around 3 years now.

Like a lot of Kiwi kids, he had aspirations to one day wear the black jersey. Now though, his code of choice is rugby league 🏉 When he's not listening to game analysis on talkback, he's bopping to the beats of George FM. He tells us his special skill is skulling liquid fast. We're sure he means water - hydration is key, right Aaran?

He's all about getting the best results for customers, and that's why we think he's great! Now you're acquainted, give him a wave next time you're in store 👋