Free LBP Training
DAYLE ITM LBP FREE TRAINING EVENINGS
Sign up for our free LBP training seminars - simply email caitlin.day@dayleitm.co.nz to go on our database.
---
HOW DAYLE ITM CAN HELP WITH YOUR LBP SKILLS MAINTENANCE
There have been a lot of changes recently with the introduction of the Licensed Building Practitioner Programme into the New Zealand building industry. This is a significant change and one that affects both builders and the public who are looking to use their services.
ITM are here to support you with your licensing requirements. We offer regular training events such as our Product Knowledge training sessions where you get a hands on demonstration from our major suppliers.
We also offer our free bi-monthly trade magazine - Building Business. 1 hour of skills maintenance learning is worth 1 LBP point so make sure Building Business is part of your LBP Skills Maintenance Programme. This magazine is stacked with articles covering key issues. We look at new products, legislation changes and of course we keep you up to date with what's going on in the ITM Cup, the ITM Fishing Show and all the ITM Racing Team action.
It is free to subscribe to Building Business. Just click here to fill in your subscription details and you will start receiving your copy.
NEW GUIDANCE FOR BUILDING WORK THAT DOES NOT REQUIRE A BUILDING CONSENT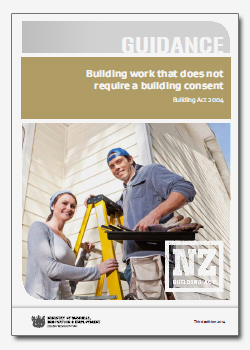 MBIE have just released a new guide.
In November 2013, Schedule 1 of the Building Act was amended. Schedule 1 details the type of work that does not require a building consent. It clarifies the types of building work that are exempt and who can carry out this work.
Keep up to date with changes to Schedule 1 by reading the latest guidance published by the Ministry: Building Work that does not require a building consent.
Click here or on the image to download the guide.
---
LATEST NEWS FOR LBPS
MBIE RELEASE THEIR LBP RELICENSING GUIDE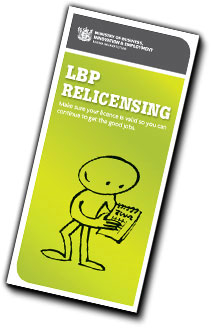 ITM want to make sure that your relicensing process is easy.
That is why we have lots of tools to help you manage the process once we have helped you build your points by reading Building Business!
MBIE have just released a short guide to help you with your relicensing process.
Click here to read the latest information.
---
SKILLS MAINTENANCE FRAMEWORK INFORMATION FROM MARK SCULLY - REGISTRAR OF LICENSED BUILDING PRACTITIONERS, MBIE
The Licensed Building Practitioners (LBP) scheme was established to assess practitioners as having the right skills and knowledge for the design and/or building work they do.
Every two years when they relicense, LBPs need to show the Registrar of Licensed Building Practitioners that they are keeping competent. This is called Skills Maintenance.
The current Skills Maintenance framework is based on the system of '1 hour = 1 point'. LBPs can claim points for any training or learning activity they undertake, provided it relates to their licence.
The New Zealand public needs to have confidence in the LBP scheme. With this in mind, the Skills Maintenance Framework has been reviewed to ensure that when LBPs renew their licence, the registrat has reliable evidence that they are currently competent. Going forward, changes will include:
A shift in focus to what was learned; LBPs will be asked to record what Skills Maintenance activities they did and what they learnt from them.
There will be four general categories of learning: Technical Skills and Knowledge; Regulatory Knowledge; Workplace Safety; and Professional Development. LBPs will have to show evidence of at least one learning activity in each general category.
LBPs will be able to claim "on-the-job" learning, provided they can explain what and how it was learnt.
Over the next year, MBIE will be providing information on these and other changes, so LBPs will have plenty of time to become familiar with the new requirements before they become mandatory.
LBPs are encouraged to check their details on the public register. Providing the registrar with an email address is the best way to keep up to date with changes as they occur.
Mark Scully
Registrar of Licensed Building Practitioners
MBIE
LEGISLATION UPDATE
Recently key new legislation was passed which will have an effect on the building industry. We wanted to make sure you were one of the first to know so that you can be prepared for any impact this might have on your business.
As more information about this legislation comes to hand we will make sure you are kept up to date.
Below is the most recent press release about the Building Amendment Act 2013.
DOWNLOADS
Click here to download a PDF outlining the immediate effects of the Amendment Act. (PDF 629kb, 5 pages)
Click here to download a PDF outlining the changes effective in 2014 of the Amendment Act. (PDF 451kb, 2 pages)
BUILDING AMENDMENT ACT 2013

The Building Amendment Act 2013 became law on 28 November. The changes in Building Amendment Act 2013 will make it easier for homeowners and builders to understand their rights and responsibilities. It will ensure that homeowners are able to make informed decisions about their homes, often their most valuable investment.

Building Amendment Act 2013 is the result of a comprehensive review of the Building Act 2004. The Government used the findings of the review to inform a package of changes introducing new measures to improve the building and construction sector.

Read the press statement by Building and Construction Minister Maurice Williamson.

IMMEDIATE EFFECTS OF THE 2013 AMENDMENT ACT INCLUDE:
• changes to the types of work that do not require a building consent
• higher penalties for building work without the appropriate consents
• additional powers for councils and the Ministry of Business, Innovation and Employment (MBIE)

CHANGES THAT WILL COME INTO FORCE IN 2014, WHEN REGULATIONS ARE PASSED, INCLUDE:
• requirements for building practitioners to provide clients with information about credentials
• written contracts for building work if the value exceeds a specified amount.
Information sheets on the immediate and forthcoming changes and a link to Building Amendment Act 2013 are available online.
Click here to review the changes on the MBIE website.

Revised guidance on work that does not require a building consent (under Schedule 1 of the Building Act 2004) will be published soon.
---
TIME TO RELICENSE ALREADY?
FOR MANY OF YOU IT HAS BEEN A YEAR SINCE YOU WERE LICENSED AND NOW IT'S TIME TO PAY THE RELICENSING FEE AND UPDATE YOUR SKILLS MAINTENANCE POINTS
HOW WILL YOU KNOW?
• You should have received a letter in the post and an automatic email prompting you to relicense.
• Or you may have noticed the expiry date on your LBP card

WHAT DO YOU NEED TO DO NOW?
• Pay the $199 annual fee.
• Online is easiest, you just use the activation code from the LBP Welcome Pack.
• If you can't find the activation code then you can ring the MBIE Call Centre on 0800 60 60 50 for support.
SHOULD YOU UPDATE YOUR POINTS AT THE SAME TIME?
• Yes, it is worth updating last year's skills maintenance points.
• LBP's can gain an extra point for submitting their points early.
• Remember 1 point for every hour you have spent reading ITM's Building Business magazine or for every hour you have spent at an ITM training course.
WHY DO YOU NEED TO PAY THE ANNUAL FEE?
• If you want to undertake Restricted Building Work you need to maintain your license (pay their annual fee) and continue to further your education through skills maintenance training.
• The annual fee covers the cost of running the scheme and LBPs receive many personal and business benefits, such as:
Formally recognised as competent and experienced in your chosen field. This is similar to the recognition that plumbers, electrical workers, architects and chartered engineers already have through their registration systems.
Able to use your LBP status as a personal 'mark of quality' in your work.
Listed on a public register so clients or employers can see your licence status.
Supported by an active advertising and promotional programme to consumers.
Only LBPs can carry out or supervise restricted building work from March 2012.